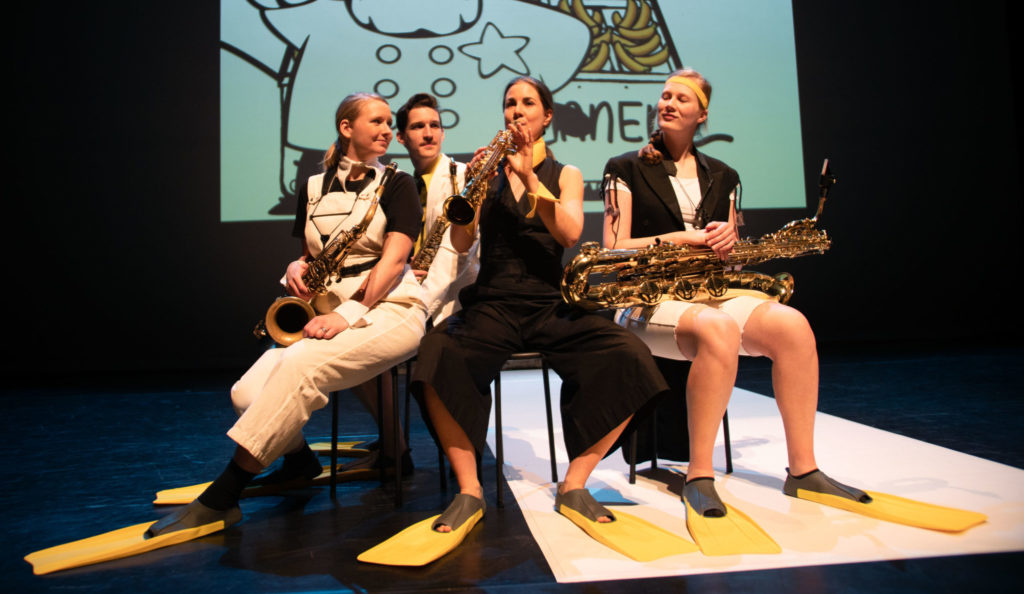 The great Penguin and Banana Show is a familyconcert (6-99 years) that the Ardemus Quartet developed in collaboration with NJO (National Youth Orchestra of the Netherlands) and director Margrith Vrenegoor.
Somewhere in the South Pole lived the last four penguins of Katona. They are very special because of their diet, they eat bananas exclusively! When the only banana tree in the South Pole dies, the penguins embark on a long journey, searching for a place where bananas are plentiful. That special place turns out to be the banana stall of uncle Jaap at the Albert Cuypmarkt of Amsterdam in The Netherlands. After a dangerous journey they arrive at the stall of uncle Jaap, but what will uncle Jaap do faced with four penguins?
A funny and moving musical stage performance played by the four versatile musicians of the Ardemus Quartet.
Music by Michael Nyman, Claude Debussy, Toek Numan and more!
Musicians and actors: Ardemus Quartet
Direction and text: Margrith Vrenegoor
Image design: Emile Zeldenrust
Light design: Teus van der Stelt
Costume design: Judith de Zwart
Voice-over: Har Smeets